Our Autumn Real Ale and Cider Festival was held on Friday 13th October, Saturday 14th October and Sunday 15th October 2023.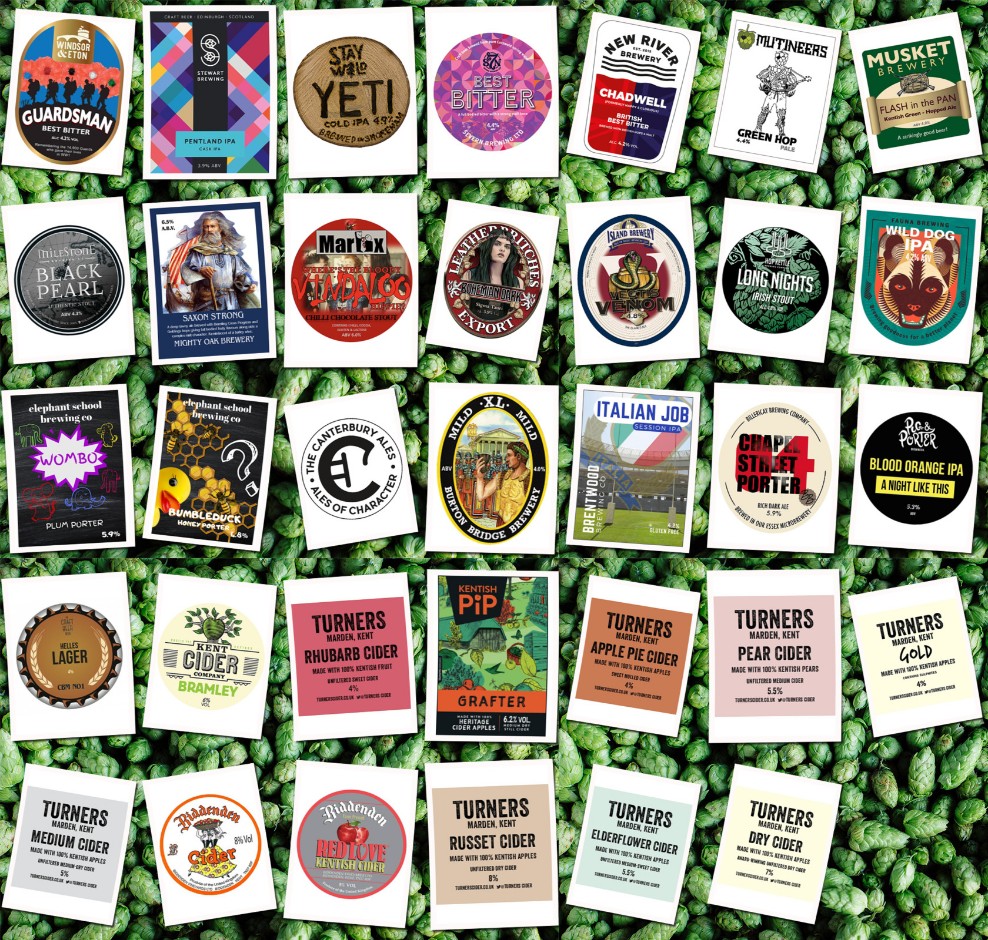 30+ stunning real ales and ciders, craft keg, cans and bottles.
Free entry for Club/CAMRA members, else £1.00/day entry on the door.
Card payments only.
Preview Thursday 12th Oct 6pm – 11pm (Club and CAMRA members only)
Friday 13th Oct 12pm – 11pm
Saturday 14th Oct 12pm – 11pm
Sunday 15th Oct 12pm – 4pm
Beer & Cider List
Pale Beers [Main Bar]:
Stewart Pentland IPA 3.9% A golden dry ale, with slight fruit tones and a moderate bitterness.
Brentwood Italian Job 4.2%

(LocAle)

Session IPA to get you through any bank job.
Fauna Wild Dog IPA 4.2% A wild take on a traditional style. A British malt base containing crystal rye for added spice and colour.
Mutineers Green Hop Pale 4.4%

(LocAle)

Pale green hop ale, brewed with Cascade hops grown in Bromley.
Stay Wild Yeti Cold IPA 4.9%

(LocAle)

An Extra pale ale fermented at cold lager temperatures to showcase the citrus and tropical hops. (Sold Out)
Tonbridge IPA 4.8%

(LocAle)

Modern IPA with a robust flavour and a crisp medium bitter finish. Kent grown Target and Epic hops provide a delicate blend of fruit, herb and spice notes.
Other Beers [Main Bar]:
Lister's Scrummy Ale 3.8% A slightly malty session ale, smooth and russet brown in colour.
Musket Flash In The Pan 4.0%

(LocAle)

A Green Hopped Golden Ale with infused aromas of floral, honey, spice and blackcurrant.
New River Chadwell 4.2% Pale chestnut coloured British Best Bitter.
Brown/Amber Beers [Festival Bar]:
Windsor & Eton Guardsman 4.2% A copper-coloured classic ale with a tangy taste,
smoothed by oak conditioning and a really fresh hop.
Severn Best Bitter 4.4% A full bodied best bitter with a strong malty base,
together with Pilgrim and Bramling Cross hops.
Milestone English Rose 4.5% Deep red English ale with a subtle hop, hints of fruity
berries and an easy drinking finish.
Island Brewery Vectis Venom 4.8% Easy drinking because of its deceptive character and darkness of colour, with an underlying smoothness that enables it to penetrate and deliver its potion in the most satisfying of ways.
Mighty Oak Saxon Strong 6.5% A deep tawny ale brewed with Bramling Cross, Progress and Goldings hops giving full bodied fruity flavours alongside a complex malt character.
Dark Beers [Festival Bar]:
Burton Bridge XL Mild 4.0% The first of the Mild's brewed by Burton Bridge Brewery.
Canterbury Green & Black 4.0% It shouldn't work but it just does. The richness of a black marries well with green Goldings
Hop Kettle Long Nights 4.8% Our take on a classic Irish dry-style stout. Brewed with a simple combination of base malt, a touch of oats, and plenty of roasted barley.
Leatherbritches Bohemian Dark 5.9% Deep dark porter brewed with 10 different malts for a rich, smooth winter warming beer.
Billericay Chapel Street Porter 5.9%

(LocAle)

Rich dark porter with chocolate, coffee and other complex flavours.
Elephant School Wombo 5.9%

(LocAle)

A spicy plum porter.
Marlix Where's the Bloody Vindaloo Hippie? 6.0%

(LocAle)

A robust stout brewed with cocoa nibs, chilli and whiskey.
LocAle is a CAMRA term signifying real ale from breweries within 30 miles of the club.
Kegs [Main Bar]:
Craft Beer Man Helles Lager 4.0% (Local) A Helles style Lager brewed to the German purity laws. With its citrus notes, it is gluten-free and vegan friendly. Brewed in Knockholt.
Pig & Porter A Night Like This 5.3% The Mosaic and Simcoe hops already gave this IPA strong elements of tropical fruit and citrus but the addition of a significant amount of blood orange puree takes this beer a lot further.
Kentish Ciders [Main Bar]:
Turners Apple Pie 4.0% Flavoured with spices and sweetened with fresh apple juice.
Turners Rhubarb 4.0% Blended with fresh-pressed Kentish rhubarb this is a very refreshing cider.
Turners Gold 4.0% A blend of our cider, back-sweetened with the fresh apple juice from a variety of apple called Cheerfull Gold.
Turners Medium 5.0% Still, cloudy, naturally sweetened with fresh-pressed apple juice, giving a full, fruit flavour. Unfiltered.
Biddenden Red Love 5.5% Produced with a red skinned, red fleshed apple also called Red Love®. A still, clear cider, medium flavour with a long-lasting finish, light and exceptionally refreshing.
Turners Elderflower 5.5% Still, fruity and floral, naturally sweetened with
elderflower syrup. Unfiltered. Best Kent Cider, Taste of Kent Awards 2018 and Silver Medal at the British Cider Championships, Royal Bath & West Show, 2017
Turners Pear 5.5% Made with a careful blend of fresh juice of Conference and Comice Pears with a dash of Bramley Apple Cider.
Kent Cider Bramley 6.0% Our vintage single-varietal Bramley is clear and golden in colour with an original dry zingy taste.
Kentish Pip Grafter Cider 6.2% A medium dry cider crafted from a rich blend of heritage cider apples grown, pressed and fermented at Woolton Farm in Kent. 
Turners Dry 7.0% Still, light, crisp cider with high acidity and low sweetness. Unfiltered and unpasteurised. Very Highly Commended at the British Cider Championships, Royal Bath & West Show, 2015
Biddenden Medium 8.0% Medium, wine style cider made from Kent grown culinary and dessert apples. Our famous Strong Kentish cider is still and smooth with a refreshing apple taste.
Turners Single Variety Russet 8.0% Still, big and full flavoured. Medium-dry.
---
Click Here for details of our previous Real Ale & Cider festivals.