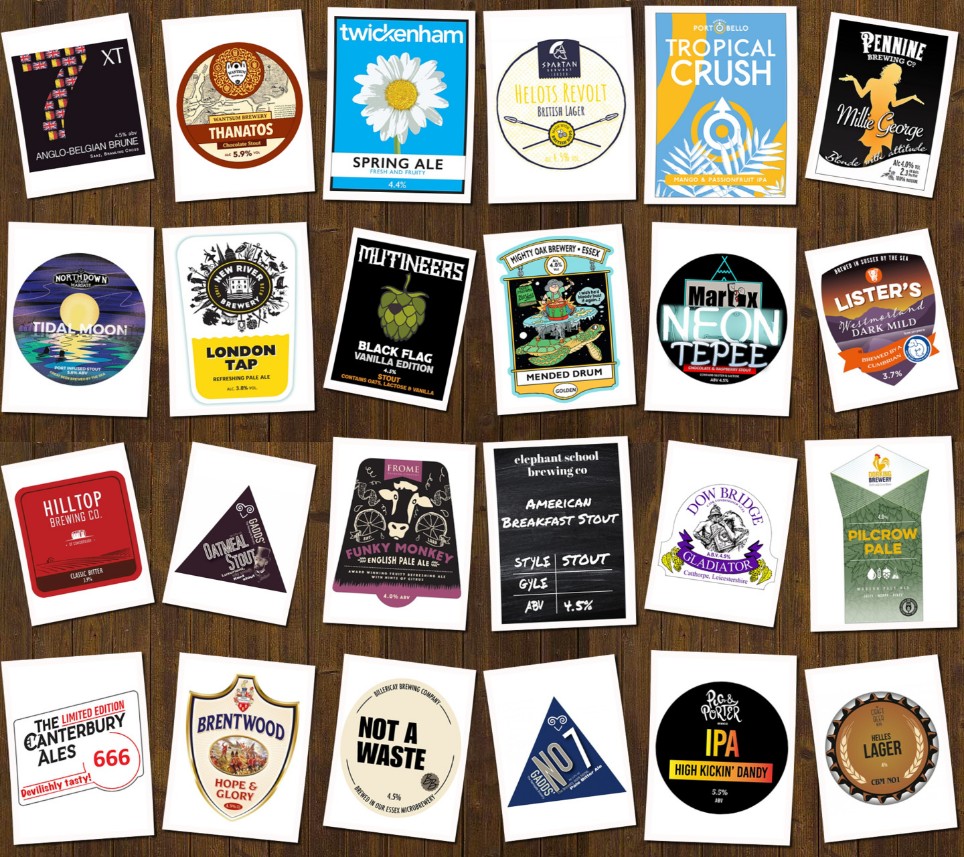 Our last Real Ale and Cider Festival was held on Friday 25th March, Saturday 26th March and Sunday 27th March 2022.
We had 22 cask beers, 7 draught ciders and 2 keg beers available:
Pale Beers [Main Bar]:
New River London Tap 3.8% A refreshing Cascadian pale ale: hints of toffee, light citrus, hoppy; refreshing finish. The New River which has been London's 'tap' for over 400 years inspired this thirst-quenching modern Pale Ale. Bursting with delicious hoppiness it delivers a clean, dry, refreshing taste. Brewed in Hoddesdon.

Dorking Pilcrow Pale Ale 4.0% (

LocAle

) A modern classic. American hops, Citra and Chinook give grapefruit / citrus flavours.
Frome Funky Monkey Pale Ale 4.0% Pour yourself a long tall glass of this English Pale Ale and linger on the light amber gleam before taking in the captivating aromatics of ripe mango and freshly squeezed grapefruit on the nose thanks to Citra and Mosaic in the hop mix. There is more citrus and tropical fruit on the palate, which are balanced by a subtle bittersweetness, before finishing with a clean bitterness and lasting dryness that encourages you to take another swig.
Portobello Tropical Crush 4.4% (

LocAle

) Fruity Session I.P.A.. Made With Fruits sourced from Portobello Market.
Twickenham Spring Ale 4.4% (

LocAle

) Golden hoppy ale with a sweetish edge. Dry hopped with Huell Melon for a fresh fruity nose and taste, with hints of melon and orange.
Other Beers [Main Bar]:
Spartan Helots Revolt British Lager 4.5% (

LocAle

) Brewed using a new experimental English hop: CF182 Opus. Expect light-floral and subtle-orange notes. Only two casks were produced so this is a very limited beer!
Pennine Millie George 4.0% A refreshing blonde ale with a mellow bitterness. Brewed using English Maris Otter barley and flavoured with a fruity hop. A real thirst quencher.
XT XT7 – Anglo-Belgian brune 4.5% The XT7 is a hybrid between English malt, Belgian yeast and a combo of British and European hops to create a beer in the style of a Belgian brune but for the British cask market. Something a bit different!
Brown Beers [Festival Bar]:
Hilltop Classic Bitter 3.9% English Bitter.
Mighty Oak Mended Drum 4.0% Janga and Olicana hops combine to give heaps of grapefruit and mango aroma in this refreshing golden ale.
Brentwood Hope & Glory Red 4.5% (

LocAle

) Our full bodied red premium bitter. A well balanced bitter with full malt flavours and a lightness of the hops coming through in the flavour, leaving a pleasing end note and lingering bitterness.
Dow Bridge Gladiator 4.5% Ruby chestnut, well balanced beer. Smooth and malty, but with a bitter, dry finish. Some fruit aroma and slight toffee sweetness.
Billericay Not A Waste 4.5% (

LocAle

) Not A Waste is an accidental beer. During the first attempt at brewing Norsey Gold we accidentally added a bag of darker malt, so we ended up with a slightly darker beer. However the beer still tasted delicious, the hoppy aroma of Norsey Gold with a slightly more malty body. The only cask of this beer outside Essex.
Canterbury '666' Hoppy Red Rye 6.0% An intensely hoppy red rye. Alchemy with the malts and delicious hopping: Nelson, Mosaic & EKG. Devilishly tasty and dangerously drinkable. Our 666th brew.
Dark Beers [Festival Bar]:
Lister's Westmorland Dark Mild 3.7% A traditional northern dark mild reminiscent of the brewer's Lake District origins. It's a smooth, refined, easy-drinking beer which remains a favourite in many parts of the country.
Marlix Neon Tepee Chocolate & Raspberry Stout 4.5% (

LocAle

) A rich, smooth stout base has cocoa nibs and kilos of real fruit added to give a wham of flavour- undertone of chocolate overlaid by a punch of raspberry. Brewed in Bromley
Mutineers Black Flag – Vanilla Edition Stout 4.5% (

LocAle

) Black Flag is a range of smooth velvet stouts from Mutineers. Various editions have been created, each with a different extra Ingredient. This edition has organic vanilla pods added, to create a warm creamy flavour to complement the chocolate notes in the stout. Contains Lactose, Oats & Vanilla.
Elephant School American Breakfast Stout 4.5% (

LocAle

) Stout with Bacon Waffle and Maple Syrup.
Gadds Oatmeal Stout 4.6% Natural crushed oats, just like your Granny uses in porridge, help to create this deliciously smooth and flavourful dark ale. There's a rich, luxurious chocolate maltiness perfectly balanced by a robust Fuggle hop bitterness in this warming brew.
Northdown Tidal Moon Stout 5.8% An indulgent Stout infused with Port, brimming with rich, dark chocolate, boozy cherry notes and a hint of oak.. 
Wantsum Thanatos Chocolate Stout 5.9% A rich smooth chocolate Stout brewed using chocolate nibs.
LocAle is a CAMRA term signifying real ale from breweries within 30 miles of the club.
Kegs [Main Bar]:
Craft Beer Man Helles Lager 4.0% (

Local

) A Helles style Lager brewed to the German purity laws. With its citrus notes, it is gluten-free and vegan friendly. Brewed in Knockholt.
Pig & Porter High Kickin' Dandy IPA Keg 5.5% A classic West Coast IPA with a malty backbone and featuring Citra, Amarillo and Sabro hops.
Ciders [Main Bar]:
Turners Apple Pie 4.0% Flavoured with spices and sweetened with fresh apple juice.
Turners Gold 4.0% A blend of our cider, back-sweetened with the fresh apple juice from a variety of apple called Cheerfull Gold. This juice is sweet and nectar-like and gives the cider a wonderful rounded and full-bodied flavour.
Turners Medium 5.0% Still, cloudy, naturally sweetened with fresh-pressed apple juice, giving a full, fruit flavour. Unfiltered.
Turners Elderflower 5.5% Still, fruity and floral, naturally sweetened with
elderflower syrup. Unfiltered. Best Kent Cider, Taste of Kent Awards 2018 and Silver Medal at the British Cider Championships, Royal Bath & West Show, 2017
Turners Pear 5.5% Made with a careful blend of fresh juice of Conference and Comice Pears with a dash of Bramley Apple Cider.
Turners Dry 7.0% Still, light, crisp cider with high acidity and low sweetness. Unfiltered and unpasteurised. Very Highly Commended at the British Cider Championships, Royal Bath & West Show, 2015
Turners Single Variety Russet 8.0% Still, big and full flavoured. Medium-dry.